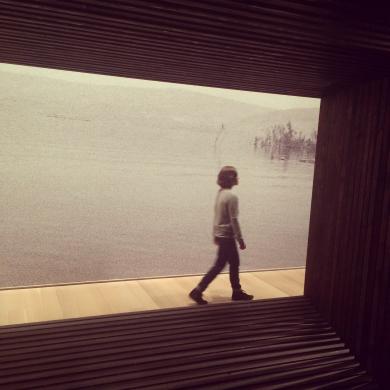 Scott and I found ourselves in Chicago for work a few weeks ago. We had some downtime to explore, but given our recent pile-up of projects we felt like burned out zombies to say the least. The place we were staying was on the magnificent mile, and after we checked in at the hotel we started walking down Michigan Avenue. I had left my hoody back in Ohio, and all my burned-out zombie brain could think about was buying a new one. Yep. My priority. And like true zombies we went the wrong way down Michigan Avenue, away from the magnificent mile (just as well I'm sure) and found ourselves wandering, me hoodiless. We were oohing and awwing over some architectural facades - and then we said holy crap look at THAT building in all its Gothic Glory and realized it was the Chicago Athletic Association Hotel! This place was recently renovated top-to-bottom by the interior design firm Roman and Williams - and was actually on my mind as a destination spot before all my thoughts were replaced by my needing the comfort of a hoody. 
But comfort we found in the details of the lobby of the Chicago Athletic Association! And we found more comfort in the interior details of the Shake Shack on the ground floor. Comfort met us at the grand staircase...and led us to the game room...and on and on we found comfort and happiness.  
And so began the pattern of our downtime in Chicago. We stumbled along, in observance of highly orchestrated endeavors. Instead of spontaneous exploring, we set forth to pay our respects to a few important collections of artifacts and history, smartly curated spaces and designed interiors. We stared in awe over things made really well, and appreciated the people that arranged the making of such things that were laid out in front of our tired zombie faces. We took it all in and thought, yep....that IS NICE. There are massive efforts being made by talented people doing good work on huge projects. It takes a lot of patience, heart and perserverence to do what these folks do. And I appreciate that. Oh, and I also bought a hoody.  
Our zombie go-to spots:  
Chicago Athletic Association Hotel Go gawk your face off.  
Freehand Chicago  
Freehand Chicago designed by Roman and Williams. Perfect for a rainy day, when you just want to be home, but instead you are in a bar/hostel that is way nicer than your home and someone is pouring you beers and you have your new hoody on so everything is just fine and cozy.   
Art Institute of Chicago. Thorne Miniature Rooms. So many minis. So many mini minis. Like all interiors, you can get an impression of what they are like from photographs, but to see them in person you experience them. Glimpses into other rooms..."natural" light from the windows. They are real little places that you are experiencing with your big giant eyeballs.  
Urban Remains.  Whenever I research antique lighting I am usually led to the Urban Remains website and vast catalog of information. Urban Remains is a true inspiration in the field of salvage, and preservation and also known for incredible research and documentation. While in Chicago we felt the need to visit the warehouse, see some of the massive collection, and just touch stuff in person. We were reminded once again that there are people out there working incredibly hard and doing big things. 
The Berghoff. This bar and restaurant fit our doin it, doin it, and doin it well theme with their exterior signage alone. But The Berghoff eluded us every time. Our first attempt was Sunday night and they were closed. Second time was Monday around 3pm, but they are closed after lunch and before dinner. Our third try was Tuesday night, and we actually made it in the front door, but they were closed for a special event! We'll get you next time The Berghoff you old tease...
All photos courtesy Opal Stackhouse iphones.