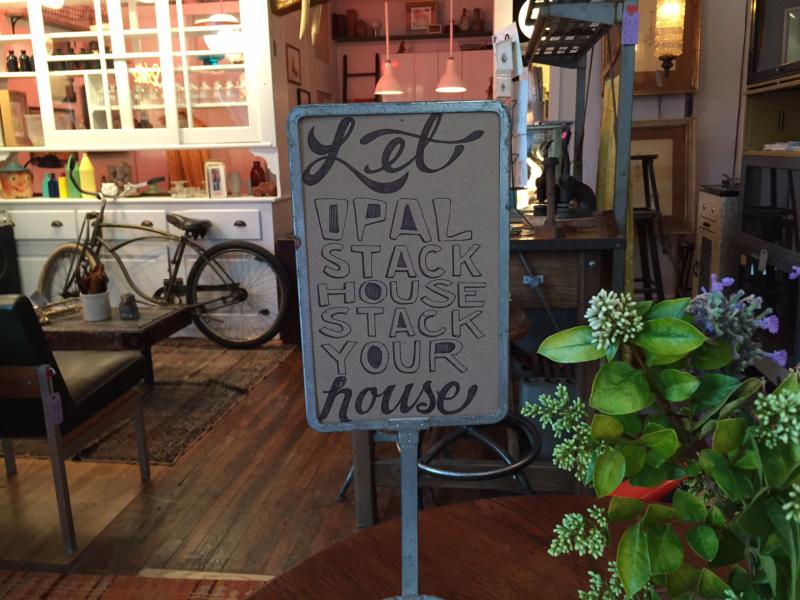 Hey friends! Did you hear that we opened a shop? It's a cozy environment with interesting items for your home or business.
Here are some highlights from the last month or so: 
1. In early April we set a date and announced we were opening.. and then had to buckle down and finish our renovation of the building, which we've been working on for no less than 3 years. THREE. III. DIY is tough. 
2. We found a stray dog and then found her home. She distracted us for about 5 days and I fell IN LOVE with her, and it delayed our opening but helping stray dogs is what life is all about, right?
3. Scott built a beautiful bar/ sales counter for the shop out of pieces of wood he found in the attic and some brass foot rails salvaged from the scrapyard!  
4. We opened on June 4th.
5. I got a new Toyota Land Cruiser from 1987!
6. We started listing inventory online opalstackhouse.com. Check it out sometime. 
7. I celebrated my birthday with friends, family, and strawberry pie. 
8. The next day I knocked a beautiful piece of art off the wall - tearing a hole down in middle, and had to learn the harsh lesson, once again, that everything is temporary. 
9. I met some genuinely nice and interesting people who came into the shop. Seriously warmed my heart. 
10. My mom helped me make a gay pride flag! (meaning she made it and I supervised and questioned every corner that she cut)
11. I sold my first two large pieces to local artists! and my first online piece to a california artist. Yay artists way to know what's cool. 
Here's an edited photo version of the past month or so. It's been real. 
I'll be open this Saturday, please try and stop in. 12p-8p
863 Henry Street. Victorian Village. Columbus OH. (one block west of Neil Ave, in an alley that runs between Wilber and Hubbard)
xo Ashley